Ordo Templi Orientis, Grand Lodge of Australia has announced the upcoming publication of the first two volumes their research journal, Ora et Labora. These will be available on the Vernal Equinox via all online retailers. They feature an international list of contributors from Italy, Australia, Poland, USA, New Zealand, Sweden, Canada, South Africa, Austria, Japan, Sweden and India.
The contents of these volumes is:
Vol I
In the Weaves of the Order – Frater Phanes X°
Typology of Will in writings of Aleister Crowley, Meister Eckhart and Carl Gustav Jung – Krzysztof Azarewicz
An Analysis of Liber Librae – Frater V.I.A.
When meditation goes bad – Cynthia Crosse
Health in Thelema: The Stone of the Wise & The Holy Guardian Angel – Shawn Gray
Eros daimon mediator and Electoral College – Frater Ιαω Σαβαω
On the Epiclesis – Michael Kolson
Secret Light: Reflections on the Rosy Cross – Tau Nektarios
Eucharist: From Self to God – Padraig MacIain
The Proof is in the Pudding- Marko Milenovic
Baphomet – Frater O.I.P.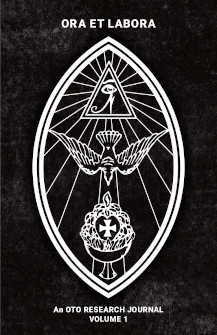 Vol II
Āmi Satya: Hallaj, Crowley, and the Baul Fakirs of Bengal – Keith Cantú
Carl Kellner – Patrizia Ebner
Freemasonry, the OTO, and Crowley – Robert Koole
Aleister Crowley: a K2 Letter – Clint Warren
The Spiritual Heritage from Egypt – Pontus Lindqvist
Notes towards a preliminary analysis of a peculiar motif in the Stele of Ankh-af-na-khonsu – Rev. Cosmé Hallelujah
The Birth of the New Aeon: Magick And Mysticism of Thelema from the Perspective of Postmodern A/Theology – Gordan Djurdjevic
Crowley, Conspiracy, Moral Panic and the Media – Brendan Walls
The Will of the Aeon – Frater A.B.H.S.
For more information  visit: