Living in the Sunlight by Steve King addresses "A long-forgotten meditation practice developed by Jeanne Robert Foster (Soror Hilarion), and assiduously practiced by Aleister Crowley and Charles Stansfeld Jones" (as per Ordo Templi Orientis Australian Grand Lodge's description).
The posted description of the book on it's site says:
"The Grand Master Shiva X° (Ordo Templi Orientis, Grand Lodge of Australia) has previously written a blog post on the Living in the Sunlight practice, which should give you some insight into this practice.
 "From the back cover of the book
"Living in the Sunlight by Steve King is a little gem of a book that is welcome and much needed, perhaps never as much as right now. Dedicated to the exposition of a deceptively simple meditation practice, the book's clear and unassuming narrative is brimful with initiated knowledge, and steeped in the esoteric lore of Ordo Templi Orientis and Aleister Crowley's Thelema. The practice of "Living in the Sunlight," however, originates not with Crowley but with his "scarlet woman" Hilarion (Jeanne Robert Foster) and can be adopted by anyone, irrespective of denominational affiliations and ideological convictions. In essence, it is a method of identifying one's deepest awareness with the Sun, for the ultimate purpose of radiating its light unto others. An antidote to the present culture of cynicism and ennui, Living in the Sunlight is based on a simple yet profound notion that happiness is contagious and grows by sharing. This book, and the method of putting it into practice, is rooted in a most radical idea, that the point of life is joy. Highly recommended.
– Gordan Djurdjevic, author of India and the Occult, and co-translator of Sayings of Gorakhnāth"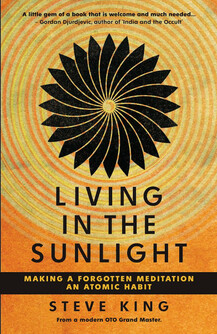 Available online via:
You will need to search for the ISBN number on local Amazon sites (i.e: CA, DE) and other onlineLiving in the Sunlight – Making a Forgotten Meditation an Atomic Habit retailers:
Living in the Sunlight : ISBN 978-0645103946
They are also available to brick and mortar retailers via IngramContent